Custom Signet Ring
Choosing a custom signet ring means making quite a few decisions, including the style of the ring, the precious metal, the type of signet seal stone and the size of the seal stone or the signet. Check out our online collection of signet rings to see a variety of possibilities.
Watch the video about the making of a signet ring
Precious Metals and Seal Shapes
A signet ring is usually made of silver, gold or white gold. There are several types of gold, such as 9, 14 or 18 carat gold. Because of the strength and affordability we usually work with 925 (92.5%) of silver or 14 karat gold - but other materials are also available on request. The shape of the seal in a signet ring can vary but the most common are the oval and cushion form. Our goldsmith offers many additional possibilities in terms of shapes and ring models. If you have special needs, please contact us and our jeweler will be happy to help you.
Gemstones
The seal of a signet ring is engraved into a signet gemstone. There are many types of seal stones or gemstones. A few well-known types of gemstones for signet rings are: blue/black layered agate (with various colors of blue), black onyx, red/brown carnelian, red/white layered agate, dark green heliotrope/bloodstone, green layered agate and the royal lapis lazuli.

The layered agate gemstones show nice contrast in the engraving ((the bottom of the stone is colored differently than the top, creating a contrast in engraving between the top and bottom), making the coat of arms more pronounced. Of the various agate gemstones, the blue/black layered agate is most popular. The top layer is blue and the bottom of the stone is black. The blue layer can be chosen in different gradients of blue. Apart from the blue/black layered agate, the red/white and green agate also have a nice contrasting color between top and bottom layers; they have a nice light top layer and colored bottom layer.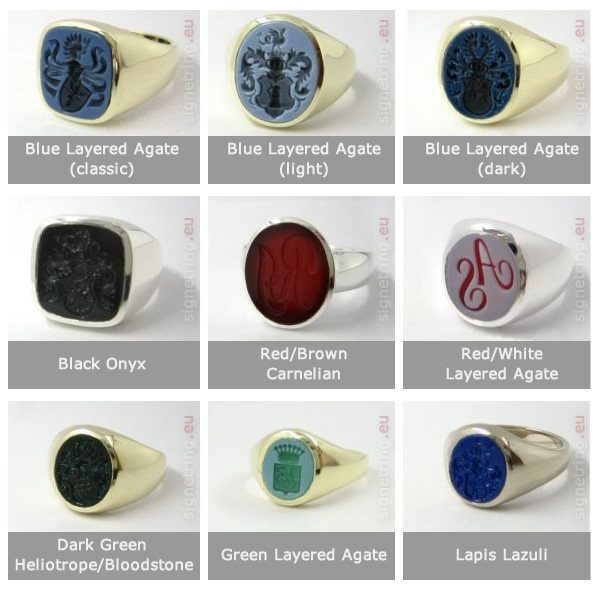 Some examples of popopular gemstones with engraving for signet rings
Engraving a signet ring
A signet ring can be engraved with various designs. The most common engraving is that of a family crest or coat of arms of the family - either the entire family crest or coat of arms only. It is also possible to engrave a monogram or other personal design.
Some examples of engraved signet rings
A coat of arms is typically engraved mirrored (or in reverse) so that it appears correctly when used for sealing and the seal is pressed into the sealing wax. In contrast, a monogram is usually engraved normally (so that you're able to read it when worn). Though these are the "norms" for the two types of engravings, you can request any engraving and have it either mirrored or engraved normally (also known as "reading" style).
Engravings can be made in seal rings that have seal stones (see above), or directly in the precious metal. Below are some examples of metal engravings.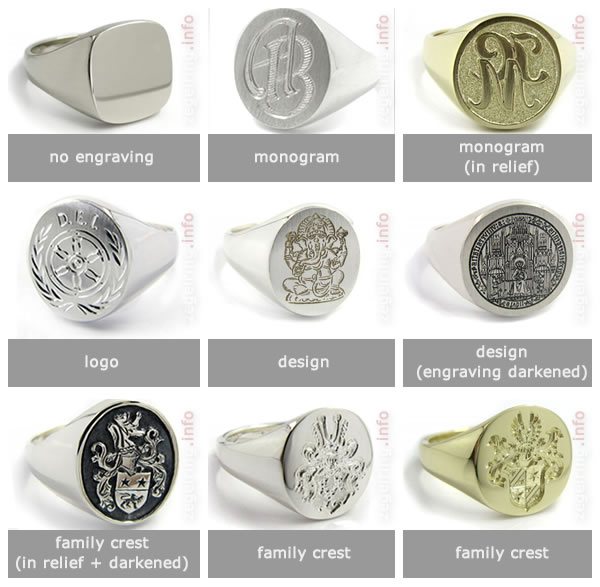 Have your ring engraved with your family crest or a custom design
Ring size of the signet ring
Whichever size you choose for the signet, or seal stone on the signet ring, is entirely a choice of personal preference. Sizes vary from 8mm (finger ring for women) to about 16mm (large men's ring) - and all sizes in between.
Via the links provided you will find several examples of seal rings, with various models, seal stones and sizes for your own personal signet ring.
Find your own signet ring online:
silver signet rings
gold signet rings
white gold signet rings
View our signet rings »