How to Choose a Signet Ring
Choosing a signet ring is a special event. The ring you choose will most likely be worn by you for life, and could be passed on for generations as a family heirloom. So, how do you ensure that you choose a signet ring you will enjoy for years to come? On this page, we'll walk you through the decisions that you must make to design the perfect signet ring for you.
by Guido van der Eerden
Choosing a signet ring is a special event. The ring is probably worn for an entire lifetime - and is often still kept for generations. It's a personal ring, which is clear from the start, when determining the right ring. We would like to help you making the right choices.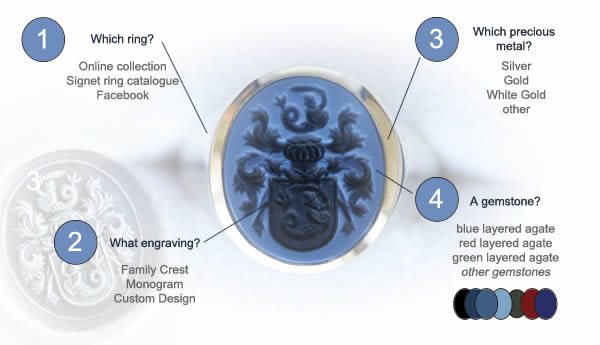 Choices when determining the appropriate signet ring.
There are four major choices you must make when determining an appropriate signet ring:
Model: select the shape and size that fit your hand best
Engraving: study the possibilities of engravings; and decide which choices appeal to you the most
Precious metals: choose which is most suitable for you (gold, white gold or silver)
Gemstone (optional): determine whether you like a gemstone with contrasting layered colours or one solid colour
Model signet ring
The most important choice in a signet ring regards the model. To view your options for the models, you can consult the online collection and catalogue, or you can always come to us to see, and fit, the rings. Signet rings have various elements that define the model. Decisive factors include:
Shape of ring and gemstone (mostly oval or cushion shaped)
Size of the gemstone or signet
Width and shape of shank (the part of the ring around your finger)
Any embellishments (such as decorations on the shank)
Shape and size of gemstone determine the model signet ring to a large extent. (Here: oval [left] and cushion shaped [right])
The model is largely determined by the shape of the gemstone. Traditionally, an oval shape is most popular with women. The less traditional, cushion shape (obtuse angle) is usually worn by men.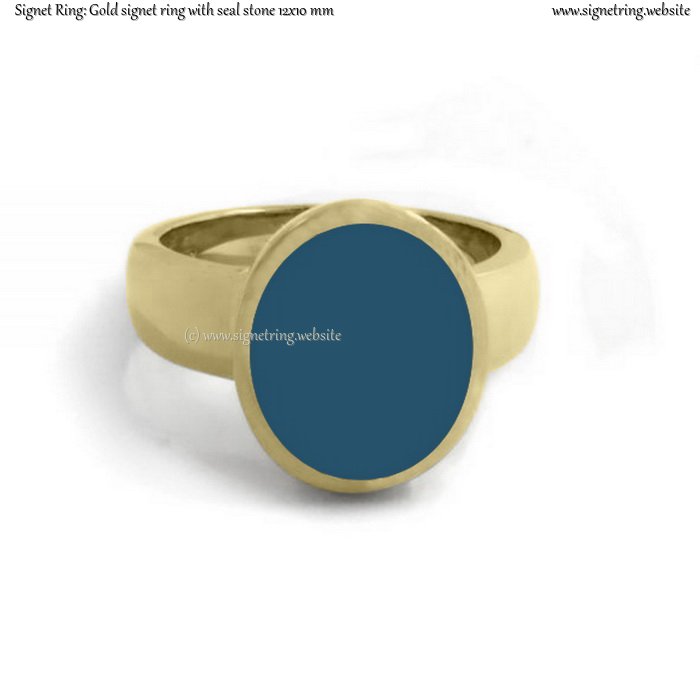 The shank of signet rings shows several variations.
The shank of a ring is the portion of the ring that sits around the finger. The shank can be formed wider or narrower and can, for example, be decorated with "furs." Most commonly, a simple appearance is chosen to bring focus to the gemstone and the engraving. Check out the signet ring collection to view the various models we have available.
Engraving in signet ring
A signet ring has several carvings - mostly of family crests and monograms. A monogram usually consists of the initials of the wearer of the ring. A monogram is normally engraved in a "for sight" or "normal" position. This in contrast to an engraving of a family crest, where the engraving is made in reverse (so that they make a positive seal when pressed into wax).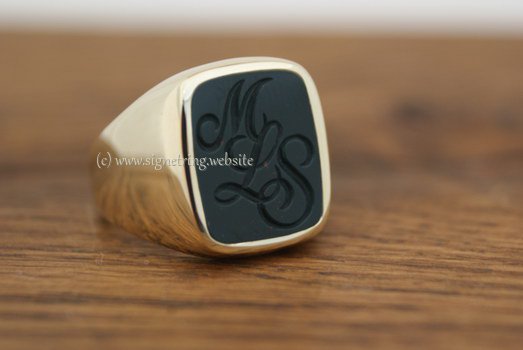 Signet ring with monogram engraving.


Besides a coat of arms (family crest) and a monogram, you can also choose an engraving based on a personal design. A simple design works best for this because the engraving can be better implemented and is more recognizable.

Choice of precious metal
The choice for the precious metal is a personal choice: does a silver or gold look suit you best? A golden ring has a warm atmosphere, whilst a silver or white gold ring would have a cooler effect. Another important aspect to consider when deciding on the metal for your ring is its durability. When a signet ring is worn often and/or will be passed on to future generations, gold or white gold is the most durable solution. While silver is a great choice for some, it is a softer metal than (white) gold and will most likely wear out and deform sooner.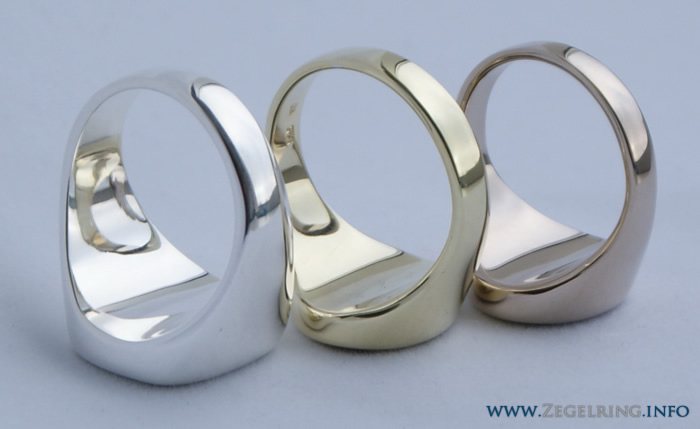 Several precious metals: silver, gold and white gold.
Gemstones
You can choose signet rings with or without a gemstone. If you choose a gemstone, layered gemstones are the most commonly used for signet rings. The lower layer has a color that contrasts with the top layer, so the engraving is clearly visible. A blue-black sardonyx is the most traditional choice of colours but, nowadays, the white-red and the green layered gemstones are also chosen often.
Green (left) and white-red (right) agate gemstones in signet rings.
Other stones you can choose from are, among others, the Lapis Lazuli, which is often worn by kings and princes, and Heliotrope, a dark green stone with red dots (also called a blood stone). Click over to our gemstone page for an overview of the available gemstones.
Which signet ring suits you?
As you can see, a lot goes into choosing a signet ring of your own. Doing your own research online can be very helpful but we often find that, to make a final decision, it helps if you can see other rings that have already been completed, either in person or even just through detailed photographs where you can see the shape and size of the seal stone and the look of the precious metals and vibrant gemstone colours up close. We have a large number of ready-made signet ring photos available on our Facebook page so be sure to check us out there (and give us a like if you feel so inclined!). If you happen to see a particular ring you like while you're there, just let us know; we can use it as reference to make a custom made signet ring for you or someone you love.
---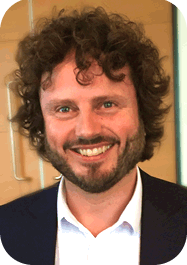 Article by Guido van der Eerden
Guido van der Eerden is heraldic jeweler and partner at Signet Ring BV (Zegelring BV). Together with his colleagues, Guido helps customers with perfectly handmade custom signet rings. Carefully selecting the most beautiful signet rings and the best heraldic craftsmen from around Europe - and delivering signet rings worldwide, Marlies guarantees high-quality signet rings that you will treasure forever. Every signet ring is created by a partnership between heraldic jeweler, goldsmith, engraver and heraldic experts. "A signet ring really is a personal piece of art - handmade to the millimeter."