Signet Ring Engraving
Have your Signet Ring Engraved
Do you own a signet ring without an engraving? We specialize in professional engraving heraldic engravings or monograms. Please contact us and we will let you know what the options and costs are for your ring.
Have Your Signet Ring Engraved »
The engraving of a signet ring is an ancient craft. An engraving often consists of a family crest or monogram (often initials). A coat of arms is normally engraved in mirror image so it is displayed correctly when the seal is pressed into sealing wax. A monogram is engraved by default in "reading style" (non-mirror image), so that the letters are readable when the ring in worn.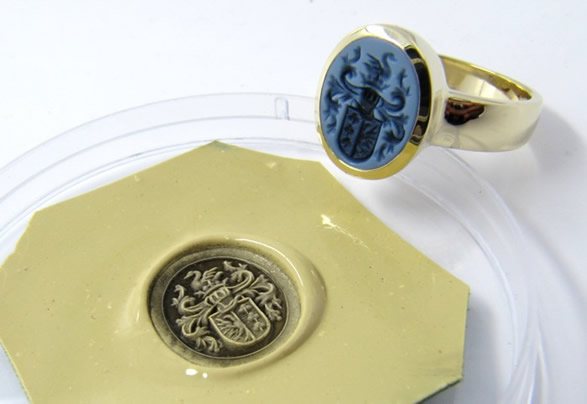 A family crest in a signet ring is engraved mirrored.
Depending on the material the engraver requires a different specialization and there are other techniques involved for different materials. Some engravers are specialized in engraving in seal stones and gems, while others are experts in metal engraving. The gem engraver employs small cutter tools with diamond powder, to carry out highly precise fine grinding in the stone seal. The metal engraver gushes very delicately the coat of arms in the precious metal. Both types of engravers have to work very precisely in order to make a real work of art of the signet ring.
An engraver creating a custom signet ring with a family crest: carving in stone
Are you looking for a specialist heraldic engraver for new or existing signet ring? Request free information via the button below.